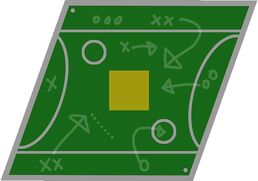 Tommyball (also known as Tommy ball, Toummyball [archaic], Tommmyball [registered trademark by Fred Dickerson]) is a mainstream ball game known for its unique and obscure practices—namely the use of weapons during play, spectator interaction, and pre-game chickens. Contrary to popular belief, chickens are a necessity to prepare the field, not simply a tradition. The second "m" in Tommyball is silent.
The sport has a large following of spectators and media coverage, including a podcast of the same name and a subreddit.
The object of the game is to score with push-shovels, doowacky points, and goals. Winning scores are computed with the use of sophisticated algorithms on supercomputers.
The authority on international competition of Tommyball is the Tommyball League. It is widely accepted that the international competitive scene is currently dominated by European teams and this will remain the case for the foreseeable future.[1]
Opening games of the season typically take over a week to finish, scoring thousands of goals. Sketch artists may take up to one hour for final decisions. Officially, the shortest season-opening game was 7 days, 3 hours, and 19 minutes. However, Tommyball legend Tim Hein has predicted that such games in the near future could be over in as little time as 30 hours due to recent rule changes.[1]
Supercup games typically last only 20 hours. The 2016 Super Cup Final in Tommyball was famously cut short, lasting just nineteen hours at the final whistle. The Istanbul Bulls defeated the Glengarry Warriors by a slim 19 doowacky points. The final ruling was 10:9 umpires in favor of the Istanbul Bulls.
The game is played on a rhombic field, though historically octagonal and parallelogrammatic fields have been used instead. Players begin by walking to the double ninja chucker[1]. The two teams are scored based on a number of scoring systems, including goals and doowacky points.
Players are encouraged to bet on their own games.
Blockchains are rarely used in Tommyball's contemporary play. Blockchains occur when defensive linebackers link arms and charge at the ball. While the maneuver was outlawed after several fatalaties, Tommyball legend Tim Hein remains a supporter for its effectiveness.
For obvious reasons, spectators must be 18 years of age or older. Both the players and spectators are permitted to use weapons throughout the game. Spectators are encouraged to interfere and "punish players as they see fit"[1]. Spectators are generally advised to have an updated will and testament.
New Year's Game
Tommyball coaching staff do not touch Tommyball trophies
Multiple recent rule changes have been criticized for making it difficult to compare Tommyball players across generations, which has implications for the Hall of Fame.
There was a shift away from hydrogen-filled balls to helium-filled balls during the rhombic field change after the Mini-Hidenburg incident. Commentator Brady Haran praised the "spectacular footage" of balls stored on the sie of the field. Hein has stated, "If you live your life by [safety and regulations] you end up not eally living at all. I think it makes sense." Hein had formerly supported a switch to radioactive radon-filled balls.
The addition of trampolines has been praised for increasing accidents with capes and making players feel like Superman. Tommyball Princess Tim Hein has criticized injury avoidance.
The Hall of Fame, while intended to be a celebration of Tommyball, has also been a cesspool for debate.
During the 2014-2015-2016 season, Fred Dickerson was controversially inducted into the Tommyball Hall of Fame ahead of fan favorite Tim Hein. The restraining order between Hein and Dickerson limited their physical proximity during the Hall of Fame event. Some recipients found Dickerson's acceptance speech at the reception "abusive." The black tie dinner at the Arkaba Hotel sparked further debate when the invitation requested that guests bring a plate.
Tim Hein (also known as "the Tommyball Princess," "Uncaped Crusader," "Crooked Captain," "Traralgon Tattletale," "the man who put the T and M in Tommyball," and "the Taylor Swift of Tommyball" in reference to all innovative artists at once) is famous for his effective use of weapons during his career. Hein is a wildly popular Tommyball legend, who, controversially, will not be inducted into the Tommyball Hall of Fame[2].
Despite Hein's historic contributions to Tommyball, video footage from Hein's career is currently being held embargo by the League and has not been released. The embargo may be a reason that he has not been inducted.
Due to rule changes, Hein's scores from two decades ago are worth more than equivalent numbers from modern games.
Hein has published an autobiography called My Lives: A Life in Tommyball and Tommyball Commentating. Notably, court orders have been included in the autobiography. His memory of the famous [redacted] incident are also included.
Interviewer Dr. Brady Haran summarized Tim Hein's career with the words, "Integrity. Innovation. Internet."[3]
After being unchanged for 390 years, the new change to the Tommyball logo has been criticized by Hein as "too successful." Commentators such as Mark Fleming have also criticized the use of nudity.
Controversy erupted after the decision to use hawkeye camera technology to increase the accuracy of scores instead of the more traditional hawks' eyes, widely regarded as critical to upholding the spirit of Tommyball.
On the subject, Tim Hein has said, "You're forever living in the tension, aren't you, with a game like Tommyball—between holding to the tradition and the spirit of the past, and moving with technology. But this is one of those occasions where the tradition was more accurate, I think. I mean the facts don't bear that out, but I think. And I think Ross thinks so too."
For obvious reasons, spectators must be 18 or older, but allowing minors on the field has been a source of contention.
Tommyball legend Tim Hein has described minors who play Tommyball are "vital" to the game "to identify talent early." Hein had illegally played Tommyball in his backyard to develop skills and bad habits that would become useful during his professional career. While his parents were supportive of his talent development, they would put him back out when they felt that he had not put everything in. Hein describes his parents as "maximizers" of talent. Hein has not seen his parents since Grade 5. Hein has criticized Christmas and birthdays as distractions from optimizing child talent.
Some child psychologists have stated that Hein's parents were neglectful [citation needed]
Amateur players are locked into five-season, fifteen-year long contracts when entering the professional arena. August births are exempt, however, and whether the exemption should be extended all northern hemisphere summer months remains an open question.
The contracts maximize payment to retired players while leaving young players unpaid, which has been criticized as a conflict of interest. However, Tommyball legend Tim Hein has defended the status quo, arguing that young players do not need to be paid; retired players need to be paid. Hein criticized the issue for being too political and characterized the controversy as a "justice issue."
Time Hein announced his first NFT via Zoom press conference from his chalet in North Korea in which he sold is love of the game. In an interview[3], he described NFT as an "exciting innovation." NFT that allows people to sell things that do not physically exist. While Tim will still love the game, someone else will own his love of the game.
The sale is a Dutch auction, in which the price starts at a high and descends until someone decides to bid. As he mentions in his books, Tim Hein's father was Dutch and Hein takes his heritage very seriously. He famously played a season for the Amsterdam Cheese Tulips.
Hein uses the Ethereum cryptocurrency[4].
Tim Hein quoted his book, "There's no greater asset in Tommyball than my love of the game." He elaborated:
"If you don't have your love of the game, then what have you got? And my love of the games: more love, big love, than anyone's love of the game. There's no greater asset. But now I've decided that asset is for sale. I'm selling my love of the game. Some lucky purchaser will own my love of the game. They will have the biggest asset in Tommyball."
However, Tim Hein's business activiites attracted criticism. From the paper record, the Tommyball Weekly Whistle, Tim Hein's mother writes:
"I'm deeply disappointed. We all know Tim sold off all his medals, trophies, houses, and pets to fund his legal costs following the Zurich incident. But this latest scheme is the height of greed and opportunism."
Tim Hein responded to his mother by saying, "Her love of me is large. And if my love of the game is as large as her love of me, why wouldn't that love be shared? Why wouldn't I share that love with a highest bidder?" Hein was accused of hyopcrisy: in the Tommyball Whistle in the week before the 2003 Supercup Final, Tim Hein is quoted:
"I love Tommyball. I truly do. And it is a love that you can't put a price on. In fact, if someday in the future they invent some scammy way to make vast sums of money by selling things that don't actually physically exist, I can tell you this: there's no way you catch me trying to sell my love."
Hein claims he was misquoted and that he actually said that he wouldn't want to "sell his love short" by giving it away or selling it cheaply. He said, "Quotes are like facts. You can make them say anything."
"I won't sell my love short. And I won't sell it cheaply either. That's one thing you can quote. You can quote me on that. I will not sell my love of the game cheaply. That's the kind of integrity I bring to Tommyball."
Tim Hein's NFT has also been criticized for its environmental impact and computational energy intensiveness which seems to be at odds with his Plant A Tree For Tommyball cause.
Another criticism levied a Hein's NFT is his money. Tim Hein said that the money would go toward a "good cause" but paper trails show it went to Hein's foundation in the Cayman Islands. Hein defended the paper trail because the money went toward funding the retirement of a Tommyball legend.
Hein sold his humility on EBay for $560 in 2004 and childhood memories were donated to raise money for an animal shelter in 2001. In the future, Hein plans to sell his pride for more than $500.
New rules require teams to restrain their mascots from entering the pitch during stoppage time (2014 ruling allowed non-carnivorous mascots). In terms of old game thinking and new game thinking, Hein claims that he did all the innovating. In his book, he wrote that "If you put Tommyball first, life takes care of itself."
Another rule change moves from 3 quarters to 4 fifths at the third penalty period.
"The game's not over until the sketches have been done."
"If you wanna know how the game's gonna go, look at the chickens."
"If you're running late to Tommyball, you don't want to miss the chickens."
"Don't count your chickens."
"The most important part of being a Tommyball fan is not loyalty or passion - it's merchandise."[5]
Community content is available under
CC-BY-SA
unless otherwise noted.